Deraya Management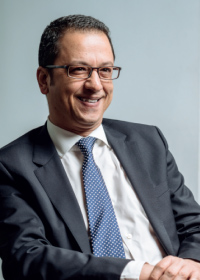 Ashraf Zaki 
Chairman / Founder
Ashraf is a proven senior executive with over 32 years of professional experience marked by a trend of progressive positions of management responsibilities with reputable organizations in electronics, FMCG and banking. An entrepreneur by nature, Ashraf established Deraya Sales Services in 2002, with successful track record of value creation over the years across the financial service industry, the real estate and insurance brokerage in Egypt and regionally.
Relaunched Diners Club in Bahrain
Established Tasheel Installment Card for eXtra, KSA leading electronics retailer
 Restructured the Arab Academy for Banking & Financial Sciences in Jordan for retail banking training and recruitment.
Ashraf is recognized as one of Egypt's leading expert in the field of sales management, consulting and sales operations and has over the past 14 years established himself as a specialist in the retail banking and consumer finance industries, focusing on innovative product development and deployment.
---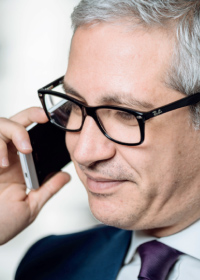 Ahmed Soliman
Vice Chairman / Founder
As an AUC graduate majoring in Construction Engineering (1993), Ahmed Soliman started his career in Procter & Gamble (P&G) Egypt as a Retail Section Manager. He gradually progressed taking on different national assignments over a period of five years to become a National Pharmacies Sales Manager. In 1999, Ahmed Soliman joined Citibank, as Resident Vice President Retail Banking. He went on to co-found Consumer Finance,  a dedicated distributor of Citibank financial services. There he created the first tele-sales unit and managed a team of more than 300 employees. Mr. Soliman is also a certified trainer in sales and sales management training. Ahmed is very well travelled, thanks to his work with P&G and Citibank, and has a global and worldly perspective on sales and business in general. In 2002, Mr. Soliman co-founded Deraya Sales Services along with two other partners, Ashraf Zaki and Mohamed Shafei. There Mr. Soliman managed multiple accounts in the banking, insurance, IT and telecom sectors. In 2007, he started working with Bupa Global as a licensed insurance broker and gradually built a sizeable portfolio of clients leading to a complete focus on this clients business. In 2014, Deraya Insurance Brokerage was established and gained its licence as one of the earliest brokerage firms in the insurance industry in Egypt. Mr. Soliman continues to be the Chairman and CEO of Deraya Insurance Brokerage. Under his leadership, the company has quickly expanded to become the top broker for Bupa on a global level; it has also expanded its client portfolio to include a wide range of insurance providers such as Allianz, Axa and other top insurance companies.
---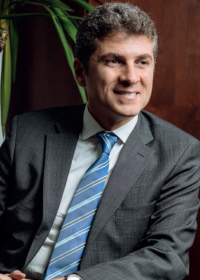 Mohamed Shafei
Vice Chairman / Founder
With more than twenty years of professional management experience, Mr. Shafei is a people-oriented entrepreneur, who believes that people, whether employees, customers, suppliers, or partners, are the key to the success of any business proposition. Having a track record of building huge customer-focused sales operations of more than 300 account executives, Mr. Shafei believes that a people-oriented culture that attracts, trains, retains, and develops the top performers in society, is the key to the success of any organization. Without ensuring the satisfaction, growth, and prosperity of the people involved, no one can achieve a successful long-term business relationship. Mr. Shafei was one of the founders of Deraya Sales Services in 2002. Leveraging his cross-industry expertise which extends to more than twenty years in the Fast Moving Consumer Goods (FMCG), financial services, Information Technology (IT), and real estate industries, he was able to lead Deraya with his partners to become the leading sales services company in Egypt. Since 2005, Mr. Shafei has led the establishment of Deraya Real Estate. Prior to the establishment of Deraya, Mr. Shafei served as the Resident Vice-President of Sales at Citi Bank Global Consumer Bank. During this position, he co-founded and managed a distributor of more than 300 employees selling Citi Bank financial products. During his early career years, he held several leading positions at Procter and Gamble in the areas of Sales and Customer Business Development. Mr. Shafei holds a Bachelor of Science degree, majoring in Mechanical Engineering from the American University in Cairo, as well as a Master of Arts degree in Business Administration, focusing on International Business, from the Maastricht School of Management, the Netherlands.
---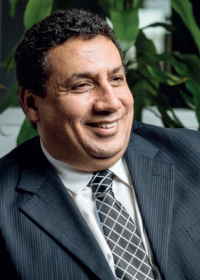 Bahaa Hussein
Partner / Board Member
Mr. Hussein received his Bachelor of Arts in Business Administration from the American University in Cairo. He started his career in 1986 in sales with Procter & Gamble, Egypt (P&G) as a retail van salesman. He worked his way up within P&G to become one of its key account managers in the Arabian Peninsula where he managed the company™s sales operation. Through an extensive 17 years of experience and his passion for training he became P&Gs qualified trainer on a diverse number of programs across Central Europe (CE) and Europe, the Middle East and Africa (EMEA). In 2003 he joined Abudawood Group, P&Gs strategic partner in the Middle East and Pakistan, as their General Manager where he led the expansion of Abudawood in the Yemen, and later managed their Egyptian and Iraqi markets. Currently he is building their joint venture business in Iraq. Being in charge of Corporate Learning and Development for the Abudawood group, he is also creating and fostering a high-performance learning environment within the organization. Bahaa joined ASTD (The American Society for Training & Development) as an active member, recognizing its great value to his own knowledge and development as a newcomer to the learning and development field. He then became a Certified Professional in Learning and Performance (CPLP) in 2010, to become one of the 1,300 certified learning and development professionals worldwide, and the first Egyptian to get this esteemed certification at that time.
< Back