Deraya Insurance Management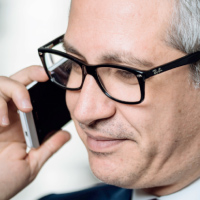 Ahmed Soliman
CEO and Chairman
As an AUC graduate majoring in Construction Engineering (1993), Ahmed Soliman started his career in Procter & Gamble (P&G) Egypt as a Retail Section Manager. He gradually progressed taking on different national assignments over a period of five years to become a National Pharmacies Sales Manager. In 1999, Ahmed Soliman joined Citibank, as Resident Vice President Retail Banking. He went on to co-found Consumer Finance, a dedicated distributor of Citibank financial services. There he created the first tele-sales unit and managed a team of more than 300 employees. Mr. Soliman is also a certified trainer in sales and sales management training. Ahmed is very well travelled, thanks to his work with P&G and Citibank, and has a global and worldly perspective on sales and business in general. In 2002, Mr. Soliman co-founded Deraya Sales Services along with two other partners, Ashraf Zaki and Mohamed Shafei. There Mr. Soliman managed multiple accounts in the banking, insurance, IT and telecom sectors. In 2007, he started working with Bupa Global as a licensed insurance broker and gradually built a sizeable portfolio of clients leading to a complete focus on this clients business. In 2014, Deraya Insurance Brokerage was established and gained its licence as one of the earliest brokerage firms in the insurance industry in Egypt. Mr. Soliman continues to be the Chairman and CEO of Deraya Insurance Brokerage. Under his leadership, the company has quickly expanded to become the top broker for Bupa on a global level; it has also expanded its client portfolio to include a wide range of insurance providers such as Allianz, Axa and other top insurance companies.
---
Join Our Team
At Deraya, we are "always looking for great people". This is our main goal when selecting people to work with us. We search for creative young people who enjoy a challenge, have initiative, and are real achievers. We seek well-educated individuals who have the potential to add to the company as well as to grow with it: people who share our principles and values and have strong competencies.
Winning Team
Experience being part of a team that strives for outstanding results, a team with a determination to win. As a high achiever, working with us will not only give you a clear, progressive career path, it will also make you a sales leader.
Outstanding People
At Deraya, you will find the kind of environment where people can fully realize their potential. We are an organization that empowers employees to exercise leadership skills and team commitment. We look for people with real talent and enthusiasm. Deraya is a company where professionals of the highest caliber come together to achieve one goal.
Personal Development
Deraya is a young, vibrant and dynamic company that allows employees to progress and innovate, as well as enjoy challenging work opportunities. We are committed to working with employees to develop each individual's skills and abilities. We take a personal interest in building you not only as a professional but also as a person.
Progressive Career
Deraya is one of the most successful sales entities and we set ourselves ambitious goals for growth and expansion. As part of our team, you will be able to explore exciting opportunities to grow personally and develop your career.
< Back